WHEN "Miss Sally's" little boy went to Uncle Remus the next night to hear the conclusion of the adventure in which the Rabbit made a riding-horse of the Fox to the great enjoyment and gratification of Miss Meadows and the girls, he found the old man in a bad humor.
"I ain't tellin' no tales ter bad chilluns," said Uncle Remus curtly.
"But, Uncle Remus, I ain't bad," said the little boy plaintively.
"Who dat chunkin' dem chickens dis mawnin? Who dat knockin' out fokes's eyes wid dat Yallerbammer sling des 'fo, dinner? Who dat sickin' dat pinter puppy atter my pig? Who dat scatterin' my ingun sets? Who dat flingin' rocks on top er my house, w'ich a little mo' en one un em would er drap spang on my head?"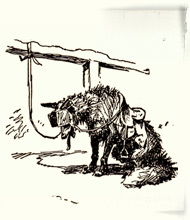 "Well, now, Uncle Remus, I didn't go to do it. I won't do so any more. Please, Uncle Remus, if you will tell me, I'll run to the house and bring you some tea-cakes."
"Seein' um's better'n hearin' tell un um," replied the old man, the severity of his countenance relaxing somewhat; but the little boy darted out, and in a few minutes came running back with his pockets full and his hands full.
"I lay yo' mammy 'll 'spishun dat de rats' stummucks is widenin' in dis neighborhood w'en she come fer ter count up 'er cakes," said Uncle Remus, with a chuckle. "Deze," he continued, dividing the cakes into two equal parts—"dese I'll tackle now, en dese Ill lay by fer Sunday.
"Lemme see. I mos' dis'member wharbouts Brer Fox en Brer Rabbit wuz.",
"The rabbit rode the fox to Miss Meadows's, and hitched him to the horse-rack," said the little boy.
"W'y co'se he did," said Uncle Remus. "C'ose he did. Well, Brer Rabbit rid Brer Fox up, he did, en tied 'im to de rack, en den sot out in de peazzer wid de gals a smokin' er his seegyar wid mo' proudness dan w'at you mos' ever see. Dey talk, en dey sing, en dey play on de peanner, de gals did, twel bimeby hit come time fer Brer Rabbit fer to be gwine, en he tell urn all good-by, en strut out to de boss-rack same's ef he wuz de king er de patter-rollers, en den he mount Brer Fox en ride off.
"Brer Fox ain't sayin' nuthin' 'tall. He des rack off, he did, en keep his mouf shet, en Brer Rabbit know'd der wuz bizness cookin' up fer him, en he feel monstus skittish. Brer Fox amble on twel he git in de long lane, outer sight er Miss Meadows's house, en den he tu'n loose, he did. He rip en he ra'r, en he cuss, en he swar; he snort en he cavort."
"What was he doing that for, Uncle Remus?" the little boy inquired.
"He wuz tryin' fer ter fling Brer Rabbit off'n his back, bless yo' soul! But he des might ez well er rastle wid his own shadder. Every time he hump hisse'f Brer Rabbit slap de spurrers in 'im, en dar dey had it, up en down. Brer Fox fa'rly to' up de groun' he did, en he jump so high en he jump so quick dat he mighty nigh snatch his own tail off. Dey kep' on gwine on dis way twel bimeby Brer Fox lay down en roll over, he did, en dis sorter onsettle Brer Rabbit, but by de time Brer Fox got back on his footses agin, Brer Rabbit wuz gwine thoo de underbresh mo' samer dan a race-hoss. Brer Fox he lit out atter 'im, he did, en he push Brer Rabbit so close dat it wuz 'bout all he could do fer ter git in a holler tree. Hole too little fer Brer Fox fer ter git in, en he hatter lay down en res en gedder his mine tergedder.
"While he wuz layin' dar, Mr. Buzzard come floppin' 'long, en seein' Brer Fox stretch out on de groan', he lit en view de premusses. Den Mr. Buzzard sorter shake his wing, en put his head on one side, en say to hisse'f like, sezee:
"'Brer Fox dead, en I so sorry,' sezee.
"'No I ain't dead, nudder,' sez Brer Fox, sezee. "I got ole man Rabbit pent up in yer,' sezee, 'en I'm a gwine ter git 'im dis time ef it take twel Chris'mus,' sezee.
"Den, atter some mo' palaver, Brer Fox make a bargain dat Mr. Buzzard wuz ter watch de hole, en keep Brer Rabbit dar wiles Brer Fox went atter his axe. Den Brer Fox, he lope off, he did, en Mr. Buzzard, he tuck up his stan' at de hole. Bimeby, w'en all git still, Brer Rabbit sorter scramble down close ter de hole, he did, en holler out:
"'Brer Fox! Oh! Brer Fox!'
"Brer Fox done gone, en nobody say nuthin'. Den Brer Rabbit squall out like he wuz mad; sezee:
"'You needn't talk less you wanter,' sezee; 'I knows youer dar, en I ain't keerin',' sezee. 'I des wanter tell you dat I wish mighty bad Brer Tukkey Buzzard wuz here,' sezee.
"Den Mr. Bnzzard try ter talk like Brer Fox:
"'W'at you want wid Mr. Buzzard?' sezee.
"'Oh, nuthin' in 'tickler, 'cep' dere's de fattes' gray squir'l in yer dat ever I see,' sezee, 'en ef Brer Tukkey Buzzard wuz 'roun' he'd be mighty glad fer ter git 'im,' sezee.
"'How Mr. Buzzard gwine ter git 'im?' sez de Buzzard, sezee.
"'Well, dar's a little hole roun' on de udder side er de tree,' sez Brer Rabbit, sezee, 'en ef Brer Tukkey Buzzard wuz here so he could take up his stan' dar,' sezee, 'I'd drive dat squir'l out,' sezee.
"'Drive 'im out, den,' sez Mr. Buzzard, sezee, 'en I'll see dat Brer Tukkey Buzzard gits 'im,' sezee.
"Den Brer Rabbit kick up a racket, like he wer' drivin' sumpin' out, en Mr. Buzzard he rush 'roun' fer ter ketch de squir'l, en Brer Rabbit, he dash out, he did, en he des fly fer home."
At this point Uncle Remus took one of the teacakes, held his head back, opened his mouth, dropped the cake in with a sudden motion, looked at the little boy with an expression of astonishment, and then closed his eyes, and begun to chew, mumbling as an accompaniment the plaintive tune of "Don't you Grieve atter Me."
The se'ance was over; but, before the little boy went into the big house," Uncle Remus laid his rough hand tenderly on the child's shoulder, and re-marked, in a confidential tone:
"Honey, you mus' git up soon Chris'mus mawnin' en open de do'; kase I'm gwineter bounce in on Marse John en Miss Sally, en holler Chris'mus gif' des like I useter endurin' de farmin' days fo' de war, w'en ole Miss wuz 'live. I bound' dey don't fergit de ole nigger, nudder. W'en you hear me callin' de pigs, honey, you des hop up en onfassen de do'. I lay I'll give Marse John one er dese yer 'sprize parties."