"HRR look like ter me dat I let on de udder night dat in dem days w'en de creeturs wuz santer'n 'roun' same like fokes, none un urn wuz brash nuff fer ter ketch up wid Brer Rabbit," remarked Uncle Remus, reflectively.
"Yes," replied the little boy, "that's what you said."
"Well, den," continued the old man with unction, "dar's whar my 'membunce gin out, kaze Brer Rabbit did git kotched up wid, en hit cool 'im off like po'in' spring water on one er deze yer biggity fires."
"How was that, Uncle Remus?" asked the little boy.
"One day w'en Brer Rabbit wuz gwine lippityclippitin' down de road, he meet up wid ole Brer Tarrypin, en atter dey pass de time er day wid wunner nudder, Brer Rabbit, he 'low dat he wuz much 'blije ter Brer Tarrypin fer de han' he tuck in de rumpus dat day dowu at Miss Meadows's."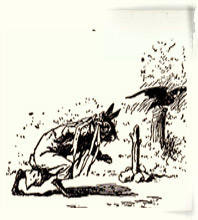 "When he dropped off of the water-shelf on the Fox's head," suggested the little boy.
"Dat's de same time, honey. Den Brer Tarrypin 'low dat Brer Fox run mighty fas' dat day, but dat ef he'd er bin atter 'im stidder Brer Rabbit, he'd er kotch 'im. Brer Rabbit say he could er kotch 'im hisse'f but he didn't keer 'bout leavin' de ladies. Dey keep on talkin', dey did, twel bimeby dey gotter 'sputin' 'bout w'ich wuz de swif'es'. Brer Rabbit, he say he kin outrun Brer Tarrypin, en Brer Tarrypin, he des vow dat he kin outrun Brer Rabbit. Up en down dey had it, twel fus news you know Brer Tarrypin say he got a fifty-dollar bill in de chink er de chimbly at home, en dat bill done tole 'im dat he could beat Brer Rabbit in a fa'r race. Den Brer Rabbit say he got a fifty-dollar bill w'at say dat he kin leave Brer Tarrypin so fur behime, dat he could sow barley ez he went long en hit 'ud be ripe nuff fer ter cut by de time Brer Tarrypin pass dat way.
"Enny how dey make de bet en put up de money, en old Brer Tukky Buzzard, he wuz summonzd fer ter be de jedge, en de stakeholder; en 'twan't long 'fo' all de 'rangements wuz made. De race wuz a five-mile heat, en de groun' wuz medjud off, en at de een' er ev'ey mile a pos' wuz stuck up. Brer Rabbit wuz ter run down de big road, en Brer Tarrypin, he say he'd gallup thoo de woods. Fokes tole 'im he could git long faster in de road, but ole Brer Tarrypin, he know w'at he doin'. Miss Meadows en de gals en mos' all de nabers got win' er de fun, en wen de day wuz sot dey 'termin' fer ter be on han'. Brer Rabbit he train hisse'f ev'ey day, en he skip over de groun' des ez gayly ez a June cricket. Ole Brer Tarrypin, he lay low in de swamp. He had a wife en th'ee chilluns, old Brer Tarrypin did, en dey wuz all de ve'y spit en image er de ole man. Ennybody w'at know one fum de udder gotter take a spy-glass, en den dey er li'ble fer ter git fooled.
"Dat's de way marters stan' twel de day er de race, en on dat day, ole Brer Tarrypn, en his ole 'oman, en his th'ee chilluns, dey got up 'fo' sun-up, en went ter de place. De ole 'oman, she tuck 'er stan' nigh de fus' mile-pos', she did, en de chilluns nigh de udders, up ter de las', en dar old Brer Tarrypin, he tuck his stan'. Bimeby, here come de fokes: Jedge Buzzard, he come, en Miss Meadows en de gals, dey come, en den yer come Brer Rabbit wid ribbons tied 'roun' his neck en streamin' fum his years. De fokes all went ter de udder een' er de track fer ter see how dey come out. W'en de time come Jedge Buzzard strut 'roun' en pull out his watch, en holler out:
"'Gents, is you ready?'
"Brer Rabbit, he say 'yes,' en old Miss Tarrypin holler 'go' fum de aidge er de woods. Brer Rabbit, he lit out on de race, en old Miss Tarrypin, she put out for home. Jedge Buzzard, he riz en skimmed long fer ter see dat de race wuz runned fa'r. W'en Brer Rabbit got ter de fus' mile-pos' wunner de Tarrypin chilluns crawl out de woods, he did, en make fer de place. Brer Rabbit, he holler out:
"'Whar is you, Brer Tarrypm?'
"'Yer I come a bulgin',' sez de Tarrypin,
"Brer Rabbit so glad he's ahead dat he put out harder dan ever, en de Tarrypin, he make fer home. W'en he come ter de nex' pos', nudder Tarrypin crawl out er de woods.
"'Whar is you, Brer Tarrypin?' sez Brer Rabbit, sezee.
"'Yer I come a bilin',' sez de Tarrypin, sezee.
"Brer Rabbit, he lit out, he did, en come ter nex' pos', en dar wuz de Tarrypin. Den he come ter nex', en dar wuz de Tarrypin. Den he had one mo' mile fer ter run, en he feel like he gittin' bellust. Bimeby, ole Brer Tarrypin look way off down de road en he see Jedge Buzzard sailin' long en he know hit's time fer 'im fer ter be up. So he scramble outen de woods, en roll 'cross de ditch, en shuffle thoo de crowd er folks en git ter de mile-pos' en crawl behime it. Bimeby, fus' news you know, yer come Brer Rabbit. He look 'roun' en he don't see Brer Tarrypin, en den he squall out:
"'Gimme de money, Brer Buzzard, Gimme de money!'
"Den Miss Meadows en de gals, dey holler and laff fit ter kill deyse'f, en ole Brer Tarrypin, he raise up fuin behime de pos' en sez, sezee:
"Ef you'll gimme time fer ter ketch my breff, gents en ladies, one en all, I speck I'll finger dat money myse'f,' sezee, en sho nuff, Brer Tarrypin tie de pu's 'roun' his neck en skaddle off home."
"But, Uncle Remus," said the little boy, dolefully, "that was cheating."
"Co'se, honey. De creeturs 'gun ter cheat, en den fokes tuck it up, en hit keep on spreadin'. Hit mighty ketchin', en you mine yo' eye, honey, dat somebody don't cheat you 'fo' yo' ha'r git gray ez de ole nigger's."