FROM very humble beginnings, interest in Uncle Remus as a media property peaked in the 1950s, with the Disney release of the movie "Song of the South" and the accompanying hit song "Zip a dee doo dah".
Today, the Uncle Remus legacy is largely orphaned by the mainstream media. You won't find a mountainous Brer Rabbit display at your local Toys R Us. You won't see Tar Baby dolls on sale at Sears.
But the Internet is a great leveler. There is a significant amount of activity on eBay on Uncle Remus merchandise, and Amazon sells numerous books that have been printed over the years. Disney actually sold the Song of the South video in the United Kingdom until a few years ago.
More recently, editor Julius Lester rewrote number of Uncle Remus stories (and added a few of his own) in plain English. And the popular actor from the Lethal Weapon movies, Danny Glover, read an Uncle Remus audio book for children.
We've compiled a list of items for sale at Amazon.com and other vendors. Check out Ebay as well for auctions of used books and other merchandise (note that many of the items there are reproductions). Remember that all profits and affiliate revenues from this site go to support our friends at the Uncle Remus Regional Library System!
The Complete Tales of Uncle Remus Amazon.com, $24.50. This is the definitive modern Uncle Remus volume. 864 Pages, published May 2002.
Favorite Uncle Remus Amazon.com, $16.00 USD. Published in 1973, this contains a subset of the stories of The Complete Tales of Uncle Remus (above).
The More Tales of Uncle Remus : Further Adventures of Brer Rabbit, His Friends, Enemies, and Others Amazon.com, $15.19 USD. Published September, 1988. 143 Pages. Also authored by Julius Lester.
The Tales of Uncle Remus: The Adventures of Brer Rabbit Amazon.com, $15.99 USD. Published April, 1987. Author Julius Lester has retold 48 of J.C. Harris' folktales in standard English but with a strong feel for the dialect of the original stories.

| | |
| --- | --- |
| | Favorite Uncle Remus Amazon.com. This title is currently not available. The publisher is out of stock. This is an audiocassette book read by actor Danny Glover. |
Available: Brer Rabbit and Boss Lion: Read by Danny Glover Amazon.com. $19.95 USD. Published in 1993.
Further Tales of Uncle Remus: The Misadventures of Brer Rabbit, Brer Fox, Brer Wolf, the Doodang, and Other Creatures Amazon.com, $15.19 USD. Published May, 1990. Also authored by Julius Lester. As engaging and accessible as the two earlier volumes, this collection focuses primarily on the misadventures of Brer Fox, Brer Wolf, and Brer Bear, with Brer Rabbit's role somewhat reduced. The full-color double-page spreads and the plentiful black-and-white sketches are consistently excellent.
The Last Tales of Uncle Remus Amazon.com, $15.19 USD. Published January, 1994. Also authored by Julius Lester. Thirty-nine selections--from tall tales and ghost stories to trickster tales--drawn from the African American tradition are reclaimed and retold in this fourth and apparently final volume in Lester's Uncle Remus series. With 8 color and 26 black-and-white illustrations by Pinkney, this roundup is as refreshing and down-to-earth as was the first book in the series; and it deserves its place as the crowning conclusion to a historic collection of tales. Review courtesy of Janice Del Negro.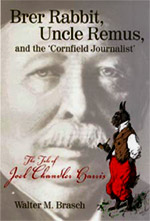 Brer Rabbit, Uncle Remus, and the 'Cornfield Journalist': The Tale of Joel Chandler Harris Amazon.com, $28.00 USD, 80 illustrations. Published October, 2000, this biography explores the life of the creator of Uncle Remus. In an entertaining and thorough sociohistorical biography, Walter M. Brasch examines the life of one of the most influential and popular American writers of the late 19th and early 20th centuries. Although Joel Chandler Harris (1846?-1908) was widely praised by his contemporaries, respected as the most popular writer behind Mark Twain, and his work has been translated into more than 30 languages, he is largely unknown today. Brasch looks at the nature of fame, and threads innumerable social and political issues throughout this important and enlightening study of a Southern writer, whom he characterizes as "a web of contradictions," among them his belief in segregation while also speaking out as one of the nation's more liberal voices for racial equality and human rights. The book explores Harris's four-decade newspaper career, which remained a key part of his life and character even after he achieved critical and financial success in the literary field. This book is essential reading for anyone interested in social history and contemporary social issues, journalism, literature, popular culture, folklore, linguistics, or Harris himself.